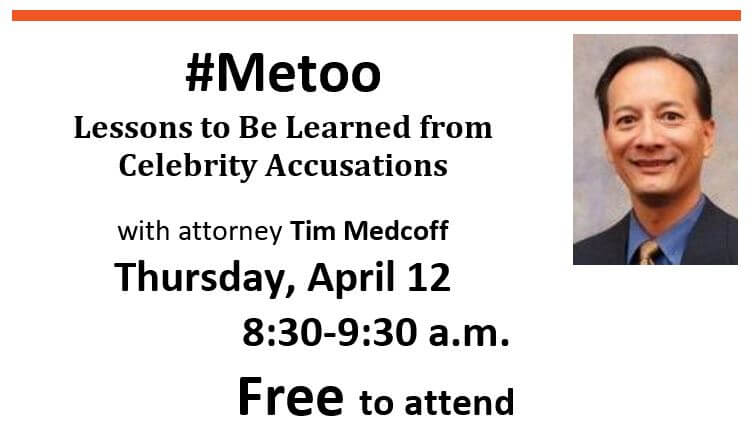 #Metoo – Lessons to Be Learned from Celebrity Accusations
with attorney Tim Medcoff
Thursday, April 12
8:30-9:30 a.m.
Free to attend
Room G-105, Pima Community College Northwest Campus
7600 N. Shannon Rd., Tucson, AZ, 85709
Celebrity accusations have led to the #metoo movement, resulting in increased sexual harassment allegations. This heightened public awareness places renewed importance on reviewing policies and procedures while performing thorough investigations to ensure the workplace is safe, productive and respectful. Owners, employers, management, and human resources professionals must comply with their fiduciary and legal responsibilities. Learn how!
#Heretohelp
Tim Medcoff, attorney and Chamber member at Farhang & Medcoff, is leading this innovative, useful and free anti-harassment seminar to equip you with the necessary tools and support you'll need to handle complex sexual harassment issues and complaints. This seminar will
provide real-world advice.
Mark your calendars and register for this important seminar.
Seats are limited!
Please RSVP to alex@orovalleychamber.com.